Meet Dr. Demetrius Anderson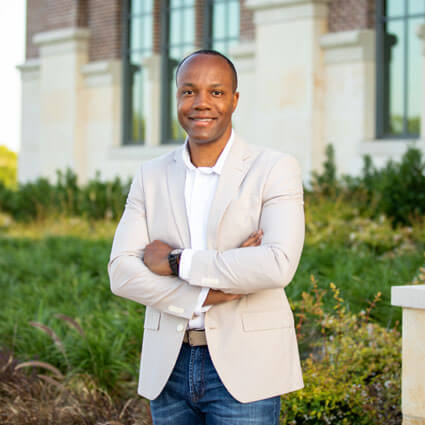 A Life-changing Interaction
Born and raised in St. Louis, MO, Dr. Anderson was proud to be a personal trainer, helping people live better through exercise.
Then as a college student unsure of how he wanted to move forward with his career, he visited a chiropractor who helped him with a minor back injury from working out. "When we were talking, he asked me about my profession. I explained that I was in the military and was a personal trainer."
His chiropractor encouraged him to visit Logan Chiropractic College as he saw that his lifestyle and philosophy of wellness aligned with chiropractic care. He visited the college and was thrilled.
"I absolutely loved it. I loved their philosophy and the way they treated people." Soon after, he enrolled to become a chiropractor himself.
Persevering to Become a Chiropractor
During college, Dr. Anderson lost his father due to a heart condition and his younger sister to complications from juvenile diabetes. "These two things shaped my purpose to serve the community. I wanted to prevent other families from experiencing the loss that I did."
Dr. Anderson graduated Logan College of Chiropractic in 2011 where he earned his Doctor of Chiropractic, Master of Science in Sports Science and Rehabilitation, and Bachelor of Science in Human Biology degrees.
After graduating, Dr. Anderson practiced as an associate in Chicago with a group of fellow chiropractors. "My time in Chicago was great. I met wonderful people and gained incredible experience."
EXPLORE CHIROPRACTIC »
Dr. Anderson met his wife Liz while working in Chicago, they moved to Texas shortly after getting married and began working on the vision for Cornerstone Chiropractic. They have two young boys, and when he's not in the clinic, he is busy keeping them occupied.
Passionate about personal training and fitness, Dr. Anderson still begins his days with a great workout. Staying active in church, Dr. Anderson and his family rely heavily on their faith.
We lean on our faith in every aspect of our lives.
As a veteran of the United States Marine Corps, Dr. Anderson is proud to have served our country and looks forward to continuing to serve the community alongside the Cornerstone Chiropractic team. "I believe that God put me on earth to serve and all the things I've done in the past and future are to serve others."
As a member of Alpha Phi Alpha Fraternity, Inc., Dr. Anderson serves the Allen & Aubrey communities by being a positive role model. He also serves at One Community Church in Plano and is involved with the Allen & Aubrey Chamber of Commerce.
Dr. Anderson is also a member of several chiropractic professional organizations including the American Chiropractic Association, the American Black Chiropractic Association, the Texas Chiropractic Association, and the Logan College of Chiropractic Alumni Association.
Contact us and let us welcome you to our family-focused chiropractic practice. We look forward to helping you achieve the life of your dreams!
---
Dr. Demetrius Anderson | (214) 383-9170