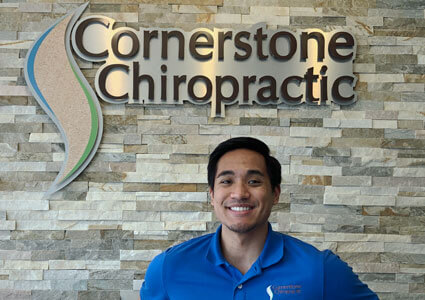 Meet Dr. Joshua Rillo, DC
Dr. Rillo was born in Dallas and raised in Rowlett, TX where he currently lives. Growing up, he initially wanted to be a dentist, but found more interest in full body biomechanics and gravitated towards physical therapy.
While working as a therapy technician at an inpatient rehabilitation hospital, a coworker attending Parker University talked to him about the nervous system – little did he know that this would be the spark that initiated his passion for chiropractic.
Intrigued by Conservative Treatment
What intrigued Dr. Rillo most was the concept of utilizing conservative treatment before resorting to medication and surgery. The philosophy of chiropractic resonated with him as he believed the nervous system was truly the master system that influenced the rest of the organ systems. Feeling renewed after experiencing his first adjustment, Dr. Rillo decided to apply to Parker after graduating from the University of Texas at Dallas with a BS in Healthcare Studies.
It was at the Parker student clinic that Dr. Rillo grew the most. With the guidance of Dr. Jesse Cooper, he developed his clinical skills of history taking and conducting a proficient physical and neuromusculoskeletal exam.
In his last trimester of chiropractic school, Dr. Rillo interned at Mesquite Chiropractic & Injury under Dr. Timothy Lehmann. He treated personal injury patients, and learned how to write patient narratives. Upon graduating from Parker University in December 2018, Dr. Rillo started working at The Joint, serving three different area clinics. He specializes in Diversified technique along with Thompson, Activator, and Gonstead.
EXPLORE CHIROPRACTIC »
Outside of the Office
When he's not in the office, Dr. Rillo conducts virtual piano lessons and plays piano for weddings. He currently serves in the music ministry of Our Lady of Angels in Allen, St. Anthony's in Wylie, and St. Michael the Archangel in Garland. He enjoys weight training and frequents Mavs basketball games.
---
Dr. Joshua Rillo | (214) 383-9170